Terra Nil - Reclaim the Wasteland
A downloadable game for Windows, macOS, and Linux
Terra Nil is a relaxing city builder about ecosystem reconstruction.
My take on the theme was that starting with nothing was just a barren wasteland that you need to rejuvenate.
The 6 buildings I managed to create form a nice circular dependency so expansion is always a little difficult.
Some protips
- Start with a turbine
- Order of building matters (e.g. you need to place the greenhouse after the scrubber)
- Pay attention to the overlays and tooltips
The procedural generation can technically create an unwinnable state, but I don't think this should happen and if it does, just restart

Controls:
- Left click to select
- Right click to deselect
- Mouse wheel to zoom
- Arrows to pan
- R to rotate
- Esc to bring up the menu
Tools:
- Unity
- PyxelEdit
- WolframTones
- Audacity
- Bfxr
Download
Click download now to get access to the following files:
TerraNilWindows.zip
19 MB
TerraNilWindowsWithResolutionDialog.zip
21 MB
TerraNilOsx.app.zip
21 MB
Comments
Log in with itch.io to leave a comment.
How play this on 2560x1080??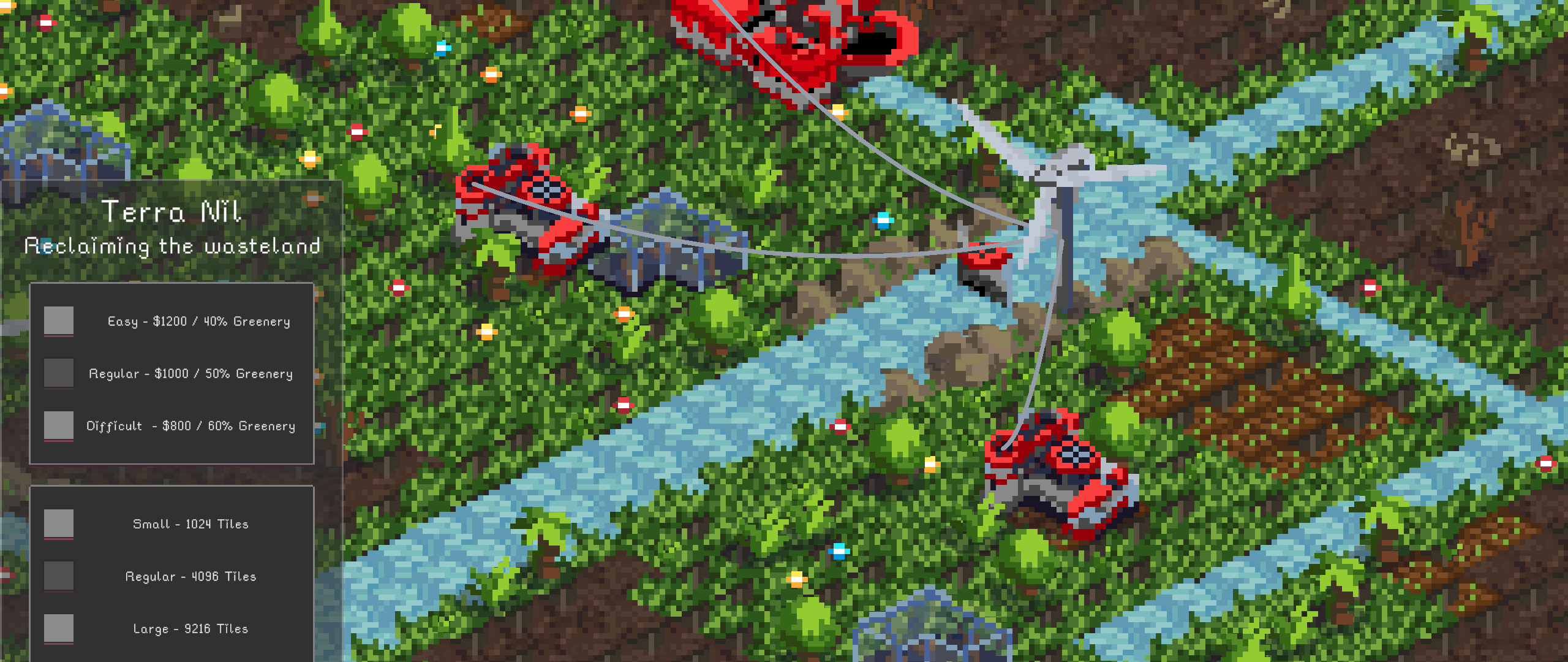 rocks never seem to spawn on the small map? this was quite enjoyable though, interested to see if you intend on expanding this.
Hello, tell me how to solve such an error: The application "Mac" can't be opened. OS Catalina
Sometimes OSX doesn't let you open files from the internet. Try CMD+Clicking on it to open, if that doesn't work let me know
The problem was in the built-in MacOS archiver
Alright, here's my feedback on the game:
Nice art and good background music. Though, the UI does go well with the art of the world.
The difficulty doesn't change over time. It doesn't matter how big your green area is, the game still has the same difficulty. This is because there is no passive income from your green area. This feels unfair.
The area of buildings is shown well. Though, it would be nice if you highlight the part of the world were they can be placed. I also think that you should better show if a building (powered) is within the range of a turbine.
If you place a building first and then place a wind turbine, the building doesn't receive power even if it is within range.
Please add the ability to see the range of a placed turbine by mousing over it.
Panning with wasd and panning by holding down the middle mouse button would be nice.
Maybe add the ability to remove buildings as well. Though, not having this does make the game more difficult. So perhaps allow destruction on low & medium difficulty and disable the ability at high difficulty.
Good fun, satisfying to play. Some feedback: the leaf symbol doesn't match the graphical style, buildings should be orange when over suitable land but out of range of electricity, add keyboard zoom controls (I'm playing on a laptop).
I like the orange idea, and I agree about the leaf symbol yeah
Thanks for the response. Also forgot to mention that the little symbols that appear as you collect money move in a strange way if you pan at the same time, the speed should be unaffected by the relative speed/direction of the panning.
Is there any hope to get a windowed mode? I have a ultra-widescreen and the ui is off :/
Sure, are you on windows? I can make a new build
I've uploaded a separate windows build which should allow you to pick your resolution and play windowed :)
Thanks! Its annoying that this setting window is so hidden at the moment and will eventually removed in the near future. Its so convieniend in my opinion.
A very nice little game. More!